Tips for Looking Good in Men's T-shirts
Share
Issue Time

2022/07/11
Summary
T-shirts are the most worn clothes in daily life and are loved by everyone because of their comfort, so can you look great in a T-shirt? The following article shares the secrets of how to look good in a T-shirt, hoping to help you.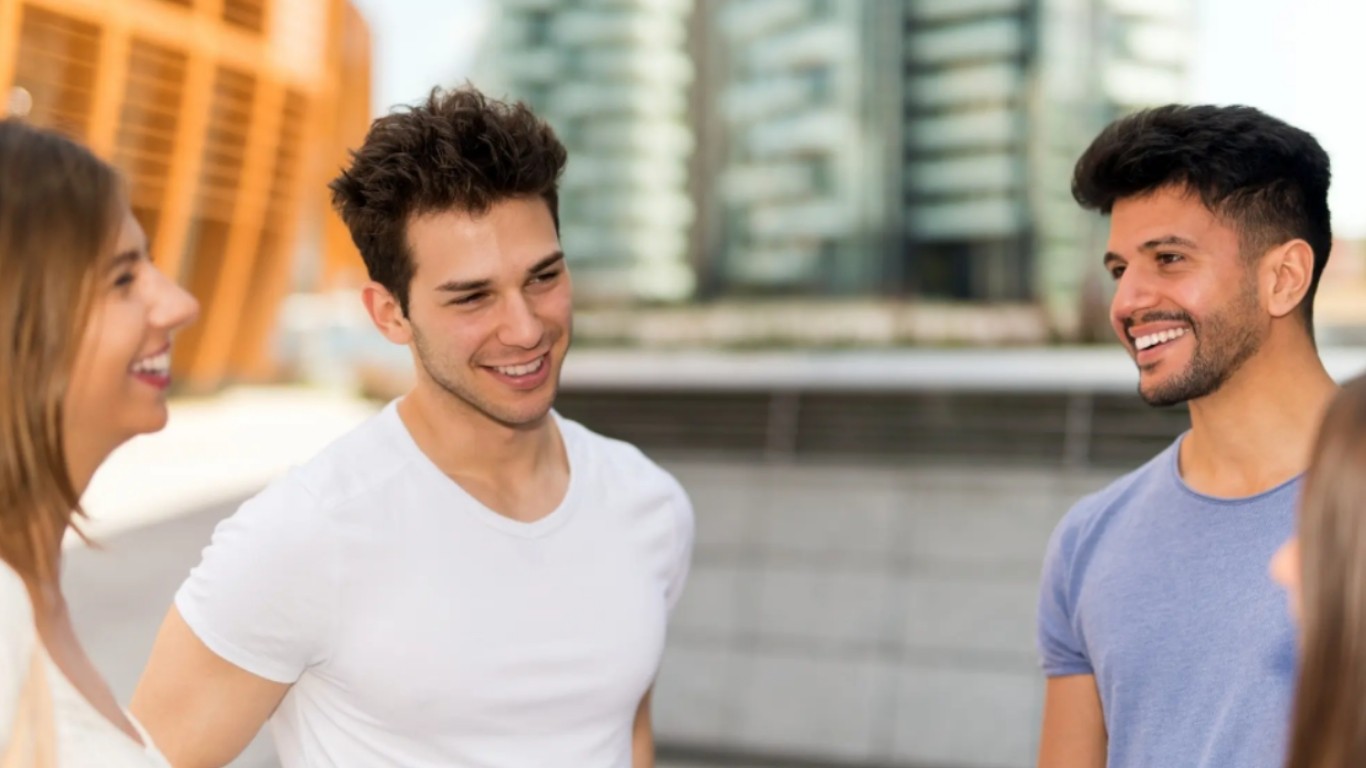 Look around the streets of the city where you live. You may see loose, loud, or faded t-shirts for both men and women.
This begs the question:
Can you look great in a t-shirt? Or should fashion men keep this humble t-shirt for fitness and yard work?
The reality is, that you can wear a t-shirt and look great. Every man has a place in his wardrobe for a t-shirt. You just need to know the good-looking secrets hidden in the details. At first glance, this t-shirt may appear to be a simple piece of clothing, but in reality, it is anything but...
That's why today I'm sharing with you my secrets on how to look good in a T-shirt.
1. Know your body type
If you're just a mortal, how can you look good in a
T-shirt
? You must know the five main body types of men,
If you're a strong man, you're probably aware of the extra weight on your belly. A tight t-shirt won't hide this very well. If you're skinny, a t-shirt might accentuate the slimness of your arms and upper body.
2. Fit
Fit is the most important part of the style pyramid. Everything is built on this.
A good T-shirt fit requires two things:
It has to match your body type.
It must not cause discomfort or restrict freedom of movement.
Why care so much about fit? Because fit is a core component of style. Clothes that fit you can show off your masculine figure, while clothing that doesn't fit hides it. It's that simple.
Take the time to find the right t-shirt brand for your body type. When trying out any new t-shirt, use the following guidelines as a checklist:
Does this t-shirt fit snugly on your chest and waist?
Are the shoulder seams aligned with the ends of your shoulders? If the shoulder seam is too low, the shirt may be too loose; if the seam is close to the neck, the shirt may be too tight.
Do sleeves cover 1/3 of your biceps? If the sleeves cover more than half of the biceps or touch the elbows, they are too long.
Does the sleeve gently hug your biceps? Loose sleeves flutter around, and sleeves that are too tight can cut off blood circulation.
Does the T-shirt fit neatly over your chest and follow the curves of your torso? It shouldn't expose the outline of your stomach too much.
Is the t-shirt a few inches below your waistband, slightly covering your waistband? Ideally, it should be long enough to allow you to lift your arms without exposing your belly. Do not wear clothing that goes all the way to the crotch.
3. V-neck or round neck?
V-necks are best for slim men. The deep cut accentuates and shows off the full bosom. A V-neck can balance a short neck or narrow face.
For men with thinner builds, a crew neck is a better choice. This style doesn't expose your neck too much, they focus less on your upper body, which is great if you haven't been to the gym in a while.
Which style should you choose? Remember, no matter which style you choose, don't show your boobs too much. Stay away from "scoop necks", extra wide "boat necks" and plunging V-neck designs.
4. Choose the right fabric
The fabric of a shirt is a key factor in determining its quality. If you want to look great in a t-shirt, its material has to be great. Two t-shirts may be the same in design and color, but the one with the better fabric will be vastly superior to the other.
As with all apparel you buy, be sure to read the label on the t-shirt. I'm sure you'll look at prices, but you should also look up information about materials. T-shirts are usually 100% cotton or cotton-polyester blends, but there are other special fabrics that may serve you better. Check out some of them:
Bamboo: Soft and breathable fabric that gives shirts a good shine; mainly used for high-end clothing.
Merino wool: A high-quality fine-woven wool often used in more expensive men's shirts; a 100% Merino T-shirt will remain odor-free for a full week without washing.
Jersey: A soft, comfortable material made from a blend of cotton and synthetic fibers.
Pima: The highest grade cotton; resists pilling or fading and also gets softer with each wear.
Linen blends: Linen is considered the strongest natural fiber in the world; linen blends often look smoother and silkier than pure cotton. Note: Linen wrinkles easily.
Stretch fabrics: Lycra, spandex, or elastane; these fabrics are popular in sportswear and are highly resistant after many washes. They also maintain the shape of the garment, making the shirt more comfortable to wear.
Tip: Don't buy ultra-thin or ultra-light t-shirts, regardless of the fabric.
5. Choose solid and neutral colors
Men usually don't go wrong with dark, neutral colors. These shades will complement the widest range of skin tones. When in doubt, please narrow your choices to the list of colors below.
Gray: Gray (especially "heather gray") works well with most clothing combinations. Grey gives you the freedom to lighten or darken throughout the outfit. It also enhances your physique if you are in good shape.
White: A plain white T-shirt is the foundation of many men's wardrobes. But be extra careful with white, as undershirts usually come in the form of a white crew neck.
Navy blue: During the day, navy blue is preferable to black. This color also works well for a monochromatic look when you pair a tee with dark jeans.
Black: Black can be a versatile option for dark clothing. Note that black t-shirts may fade over time to a worn gray.
I recommend starting with the colors above but still experimenting with bold stripes and alternate colors. Just check that it fits you, that it works with your other outfits, and that you feel confident in it.
6. Fold the shirt correctly
Now you have the perfect tee to protect your investment. Here's how to avoid creases and odd bumps on your shirt in six easy steps:
1. Turn the shirt face down and smooth out any wrinkles.
2. Imagine a vertical line running down the center of the shirt, then fold it in half along this line so that the opposite sleeves touch. You should now have something like a t-shirt cut in half.
3. Fold the sleeves back and cover the body
4. Fold the whole garment in half again from top to bottom.
5. Now fold the T-shirt in half one last time.
6. You now have a compact, crisp and clean fold. fast and convenient!
The above describes in detail several ways to wear men's T-shirts. If you want to buy men's T-shirts, please
contact us
.
METRO is a professional
custom t-shirt manufacturer
, our products are t-shirts, shirts, jackets, etc. We can provide you with professional custom clothing solutions. We'd love to listen to your ideas and needs, then help you bring them to life through our experience.